Jiashan SEBO Trading Co.,Ltd. supply slide bearings and wear plate, and also supply the Spherical Plain Bearings, Rod Ends, Bearing Housings and needle bearing.
SE-020 Marginal Lubrication Bushing
Click here to more table size






SE-020 is triple-layer self lubricating material that can filI modified POM plastic as su rface layer; it is benignant boundary Iubrication materiaI, therefore, it is particularly applicable high-load low-speed rotating and wing movement, as well as in the condition that frequent loaded start-stop is the requirement while hydrodynamic lubrication membrane is difficult to form, in the parts such as bearing, thrust washer, sliding block, ball socket and so on. SE-020 can take full advantage of less grease to work long time without lubrication maintenance under boundary Iubrication condition. But under oil-free condition, SE-020 the frictional behavior and permissible PV value ls relatively low, so generally storage pit can be formed on the plastic surface, where lithiumbased lubricant grease or silicone grease and so on should be applied when being installed.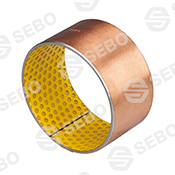 Lead Free Marginal Bearing
Lead Free Marginal Bearing
Lead Free Marginal Bearing
Max load capacity P (Static)
Max load capacity P (Dynamic )
Max line speed V (Grease )
Max imum PV value (Grease )
Friction coef μ (Grease )
Coefficient of linear expansion